Order Samples: $1.00 per 1 Card
Free Shipping for samples and singles!
Precut Invitation Cards & Inserts
Precut blank cards & inserts are available in multiple colors to place inside the pocket card. Please check your printer for size compatibility.
| | |
| --- | --- |
| Availability | In Stock, Usually ships in 1 business day |
| SKU | 3409-15-050 |
| Manufacturer | Neenah Environment Desert Storm Recycled |
| Size - Inches | 5" x 7" |
| Size - Metric | 127 mm x 177 mm |
| Paper Weight | 80 lb Cover / 216 gsm |
| Paper Thickness | Cardstock - Medium |
| Paper Color | Taupe Brown Recycled |
This design has a horizontal pocket on the right flap of the card and a flap on the left to fold over the card. The card is 5" x 7" after folding.
Paper Color: Paper has a smooth finish with elegant visible fibers (fibers are inside the paper and does not interfere with the smooth finish).
Sizing Chart
Here is an idea of the different sizes that can fit inside the Pocket. Please note that this is a recommendation of a full design. You can modify as desired.
The envelopes and insert cards are not included and are sold separately.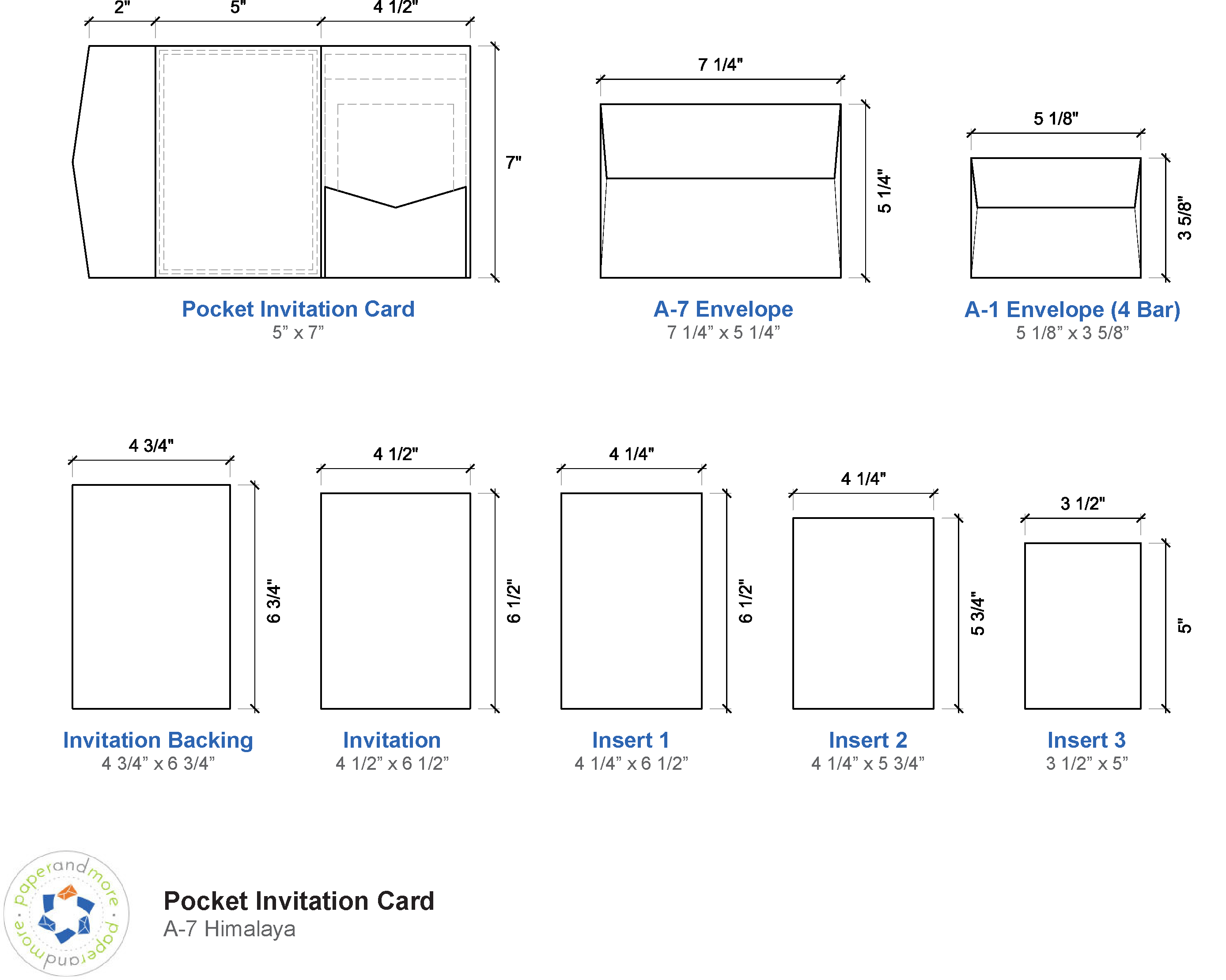 Invitation Cards & Inserts
Precut blank cards & inserts are available to place inside the pocket card. Please check your printer for size compatibility.
Assembly Instructions:
Center Flap
The center flap can be used to display the main body of the invitation (event, participants, dates, location, etc...)
Please note a 5" x 7" card would be too large to use as an invitation or backing card for the A7 pocket size
Right Pocket Flap
The pocket can be used to display additional event details, maps, directions, rsvp cards, reception cards, hotel & registry information, etc... The maximum width that can be placed inside the pocket is 4 1/4".
If you are including an envelope inside the pocket, we would recommend using a A1 (4 Bar) size envelope.
Mailing
When assembled, the card will fit perfectly into an A7 Square Flap Envelope or A7 Euro Flap Envelope. Most pockets have a matching envelope in the same color.
Printing
Due to the style of the card, it is NOT compatible with most home printers. It is best to print on an insert and adhere to the middle flap or place inside the pocket on the right side. If you need printing directly on the card, please contact a local print shop.
Mounting
You can order any of our papers and use our Custom Cutting service to have the paper trimmed to the size you need. We also have Pre-Cut Base Cards in Bright White Solid or you may order paper uncut and have it cut locally. You can use our Adhesives or any adhesives intended for photo mounting to adhere the Base on the middle flap.
Commonly Asked Questions
What envelope will the A7 Himalaya Pocket fit inside of?
Answer: This will fit inside the A7 Envelopes (5 ¼" x 7 ¼") perfectly. The Himalaya Pocket Card is 5" x 7" when folded.

Please note, if using more then 3 inserts and 1 invitation, you may want to use an A7.5 (5 ½ x 7 ½) envelope.
My invitation is 5" x 7", but this pocket has a recommneded invitation card of 4 3/4" x 6 3/4" or smaller. Do you have a larger Pocket that fits a 5x7 invitation?
Which envelope can I place in the pocket for RSVP's?
Do I need an envelope to mail a pocket?
Yes, we highly suggest using an envelope to house your pocket and inserts. The Pockets to have open edges which the cards will slip out of.
Are envelopes included with the purchase of pockets?
Mailing envelopes are not included with the pockets. This is done to give customers flexiblity in choosing coordinating envelopes.
Can I print on the pockets?
The pockets can not be printed on as it becomes 3 layers thick.
What are pockets used for?
Pockets are used to present invitations (wedding, corporate events, bat/bar mitzvah, baby showers, birthdays...any kind of event really!) The benefit to the pocket is organization and presentation. It allows you to give a lot of information in a beautiful way. The pocket is great to fit up to 4 inserts while the invitation is displayed on the center flap.
Do you sell blank cards to use inside the pocket?
Can I order samples?
Yes, you can order blank singles from the top of any product page.
Do you have designs I can use ?
We don't have ready made designs but etsy is a great place to find your invitation template. Once you have your paper picked out, and your template customized with your wedding details, you are on your final step of having it printed!
Coordinating Products
The cards can be optionally paired with the items below.
Envelopes
Paper
---
Printing
Have Us Print Your Design Files
We can print your design files with our printing service. We'll take care of all the alignment and cutting. The cost of printing includes the cost of the cardstock as well.
Customer Reviews
Reviews (6)
Questions (0)
02/08/2016
Laurence H
La Jolla, CA
Perfect!!
Those pocket folders are perfect for the wedding invitations I am making. Paperandmore always has what I am looking for, and I am never disappointed...
03/29/2011
NQ
Stanton, California (CA)
Thank You
Good quality pocket invitations, more than what I expected will continue to purchase from paper and more.
01/22/2011
Daniza O
San Diego, California (CA)
Recycled but classy
I'm having a destination wedding, but wanted to keep everything classy and traditional. I purchased these folders to add a beach-feel to my elegant invitations. They did just that. Well-made, not cheap-feeling at all, they added that casual texture without downgrading the quality and style of the invite.
06/21/2010
Jeanine H
Napa, California (CA)
Great!
The pocketfold is made out of a great thick paper. Love the color and natural look so it's exactly what I was looking for.
03/20/2010
Michelle L
Alexandria, Virginia (VA)
Don't let "recycled" fool you on quality
I'm using these for my wedding invitations. The quality is really nice, smooth, and sturdy and does not feel recycled. It gives the image of being earthy and you can see small strands of fibers but nothing like a paper grocery bag. Over all, it is very nice and excellent quality. Don't let the "recycled" name fool you on the quality.